MCAT: Medical College Admission Test
The Medical College Admission Test (MCAT) is produced at the direction of the Association of American Medical Colleges (AAMC) by American College Testing (ACT - producers of a well known college admission test) in Iowa City, Iowa. Official information about this test (including registration) is available at the above web address (www.aamc.org) or by mail or phone:

MCAT Program Office
2255 North Dubuque Road
P.O. Box 4056
Iowa City, IA 52243

319-337-1357
(Monday - Friday 8:30 a.m. - 4:30 p.m.)

The test is offered twice a year, usually on a Saturday in April and August and is typically taken before the start of your last undergraduate year.
Basic Information
The MCAT consists of four tests (and hence four scores) with a total on-task time of 5¾ hours. In the morning it's: Verbal Reasoning and Physical Sciences; in the afternoon it's: Writing Sample and Biological Sciences. Except for the Writing Sample, all tests are multiple choice.
Test
Number of
Questions
Time
(min)
Minutes per
Question
Content
Verbal
65
85
1.3
critical reading
Physical
77
100
1.3
GenChem and (non-calculus) Physics
Writing
2
60
30
written communication skills
Biological
77
100
1.3
Organic Chem and Intro Bio
Note that the "Minutes per Question" data can be quite misleading. The test is largely devoid of independent question/answer pairs (called "discrete items"). Instead (with the exception of the writing sample), most of the tests consist of multi-paragraph "passages" follwed by 5-8 questions on that passage. The passages are often written at a level above that of your intro textbooks. You are being tested on your ability to make sense of the passage. In some sense all of these tests simply test critical reading--the science tests are distinguished only by having passages with technical content and vocabulary. You will often find that a quick scan of a passage will reveal only that you know nothing of this material. Do not give up! Even if the passage is complex, the questions really are designed for an intro-level knowledge base backed up by good reading skills. Remeber that your ability to apply eight semesters of science courses is going to be tested in your ability to read with understanding 22 passages. That's about 5 passages per year-long science course (GenChem, Organic, Physics, Biology)! You cannot afford to give up on any passage. (Incidently: leave no question blank; guessing can only improve your score.)
During an actual test you are not permitted to use aids of any kind. Calculators, slide rules, equation sheets, notes, books are ruled out. You may want to excercise your head-arithmetic if you have relied on a calculator in college. The science tests include a periodic table as a reference. You are permitted to use your test booklets for marginal notes (e.g., marks to come back to this question if time permits) and calculations. However, make no marks in material distributed for the common use of the class (e.g., tests on reserve in the library); instead use scrap paper.
Scoring
MCAT verbal, physical, and biological results are reported as a "scaled score" in the range 1 (lowest), to 8 (median), to 15 (highest). While each MCAT is individually scored, the scaled score is nearly normally distributed with a mean of 8 and a standard deviation of 2.5. The relationship between "scaled score" and percentile ranking is then approximately given by: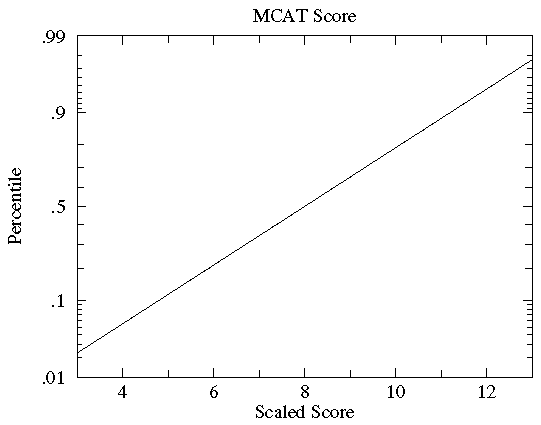 The MCAT writing sample is scored on an alphabetic scale ranging from J (lowest), to N (median), to T (highest). For more information about the writing test, click here.
You will want to score "double digits" (10 or more) on these tests to be considered competitive by most medical schools. Admission to medical school is not determined solely by your MCAT score; indeed some medical schools will give very little weight to your MCAT score. Other factors including:
GPA, both overall and in pre-med/science courses,
breath and difficulty of coursework,
letters of recommendation,
involvement in quality health-related work or research,
qualities displayed on medicial school application form,
extracurricular activities,
are usually considered by medical schools.
Practice Tests
Practice tests help you uncover weaknesses before the real exam, and thus provide a focus for your preparations to take an actual MCAT. Practice exams are available from many sources. Commercial producers of test preparation include: The AAMC also publishes three practice exams based on actual MCAT exams. This web site provides computer grading and some suggests for further study based on these three AAMC exams. Click here for further information.
misc.education.medical FAQ (Medical Education FAQ)
misc.education.medical is the Usenet newsgroup carrying discussions about the training of MD and DO physicians, and serves as a center of communication for pre-meds, medical students, residents, and physicians. Usenet may be accessed through Netscape News (part of the Communicator suite), or tin on a UNIX system), or via a web-based news archive such as Google Groups.

The current version of the FAQ is version 2.5.

FAQ Part 1:[Plain Text] [Hyperlinked]

FAQ Part 2:[Plain Text] [Hyperlinked]

The newsgroup's Frequently Asked Questions list is posted every 14 days to misc.education.medical and several other newsgroups. Comments or questions about the FAQ are welcome, and may be sent by e-mail. If you have a question that's not answered in the FAQ document, come join the discussion on m.e.m.!